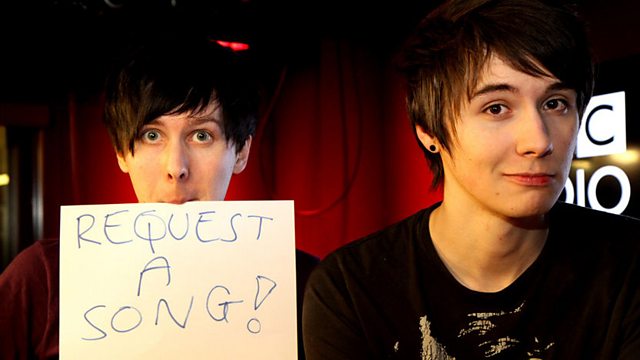 Image Source: BBC Radio 1
Dan
and
Phil
became hosts of BBC Radio 1's weekly
request show
, taking over from the lovely Jameela Jamil. After working for Radio 1 on and off for about a year they were finally given their own show, allowing them to make the transition from YouTube to Radio. This is just one success story, out of the many, that comes to mind and it is evident that, while browsing through YouTube and blogspot, many of us have found ways to get our channels and blogs noticed and capitalise on this at the same time. Whether it is by advertising, sponsorship, reviews or attending events, our blogs and channels are able to offer us something extra that wouldn't be possible through just our studies or jobs alone. I'm sure many of us do not set up blogs or channels with the sole intention of becoming 'the next big thing', but simply because it is something we enjoy doing. Motivation for Dan and Phil, I'm sure, which has now bagged them a pretty cool job on the Radio 1 station! What I take from this is that, despite the current economic climate, we are taking control, harnessing certain opportunities and we are determined to shape our own futures, one way or another. Because of this, we are being called
The Beta Generation
- a whole new group of social entrepreneurs who are ready to try out new things and take our hobbies and skills to the next level.
What's great about this is that it is definitely not restricted to media but can take any shape or form. For example, we are taking matters into our own hands and creating our own online stores and boutiques through the likes of social media and websites such as
Etsy
and
Shopify
- allowing us to turn our hobbies and skills into something more. I can give a couple of examples of people I know who have decided to start up their own small businesses, alongside their studies, which incorporates what they love and offers a small way to make extra money. One, having set up her own
jewelry collection
another, her own
nail art service
, while another, her own cupcake business. Again, these are small examples but are definitely embracing the entrepreneurial spirit of this Beta Generation. That is, not waiting around for someone to
offer
the job, but to
create
it ourselves.
Have any of you decided to take a hobby or skill to the next level and offer your services to others? What opportunities have you gained from your blogs and YouTube channels that wouldn't have otherwise been available for you? Success stories like Dan and Phil show how, if done correctly, taking matters into our own hands, creating our own opportunities and opening our own doors can be 100% more effective than waiting for the doors to open themselves. If you want to find out more, check out
this article.
ALSO!